Liberman Gets Charges Filed Against Him, Round 2 (Post has been Updated)
Mike Davis, thorn in the paw ("go on, pull my thorn!"-south park reference) of those who wish to violate the bylaws, has filed more charges against Liberman. Here is the charge sheet description:
I have substantial picture documentation of Zach Liberman posting campaign literature on several campus passageways and request the Judicial Council issue significant punishment for this infraction. 13.6 violations are left completely to the Council's discretion and I ask the Council to formulate an appropriate remedy.
13.6 is a part of the byalws that forbids "Posting campaign literature of any candidate or party on restricted bulletin boards or any structured or natural feature of the campus such as (but not limited to) doors, windows, buildings,
surfaces of walkways or roads
, Sather Gate, fountains, posts, waste receptacles, fences, or trees. " Here is a picture of the notorious Liberman placing his alleged campaign materials near Sather Gate (love the Bears United shirt). My understanding is that the poster he placed had the Daily Cal logo on the top, a number of headlines from the paper with descriptions of ASUC mistakes/problems, and the word "DONE".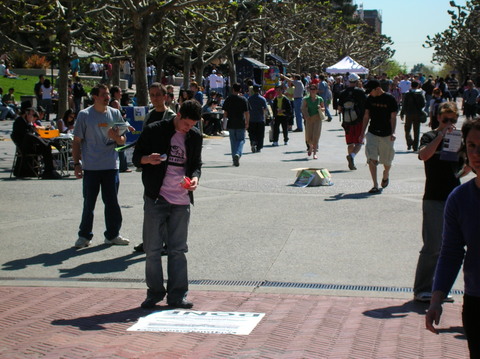 For a discussion of what these charges could mean for the larger Bears United Party, see
this previous CalStuff post
.
And here is a picture of quasi-Bears United EVP candidate Billy Wang with Liberman:
billy and zach.jpg
And here is a closer in shot of the poster:
daily cal logo.jpg
P.S. My major fear with all of this is that the judicial council might actually disqualify Liberman for this or other charges, depriving us election observers of a significant amount of fun.
Email This Post!