A Definitive Definition

car-toon (n.)
1b. A drawing representing current public figures or issues symbolically and often satirically:
a political cartoon
.
And
Sat-ire (n.)
2. Irony, sarcasm, or caustic wit used to attack or expose folly, vice, or stupidity.
For clarification purposes:
This is a political cartoon.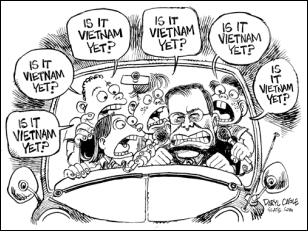 This
is not a political cartoon. Given, the artist is a newbie (her second work), and maybe I'm being a little harsh, but this is Berkeley. Can't the Daily Cal do better than this? And also... can we get some subtle humor, please? Not every point has to be made with a sledgehammer. Between the new girl and
Beetle's ongoing rants
over Rifkind, I think we can do better. This is one of the top universities in the country, and we should have cartoons that embody that spirit.
Email This Post!